ONE THOUSAND BOOKS 2021
20 August – 19 September in Roskilde
For program and documentation, visit our dedicated website: 2021.onethousandbooks.org
One Thousand Books is a series of experimental art book festivals in Copenhagen celebrating the dynamic and rapidly growing independent art publishing scene to the Danish and international public. So far, there have been four iterations of the festival, each investigating different aspects of that scene: In 2013 and 2014, One Thousand Books took place inside a functioning REMA1000 supermarket. In 2016, it moved to three of Copenhagen's premier public art spaces and included an exhibition, a seminar and a series of networking events. In 2018, One Thousand Books took the form of a survey publication and a launch performance. One Thousand Books aims to showcase art publishing as an accessible yet complex creative practice and to serve as a platform where actors in the field of bookmaking can connect and share ideas and perspectives on current issues in the frame of editing, printing, disseminating and exhibiting books. One Thousand Books is initiated by Lodret Vandret.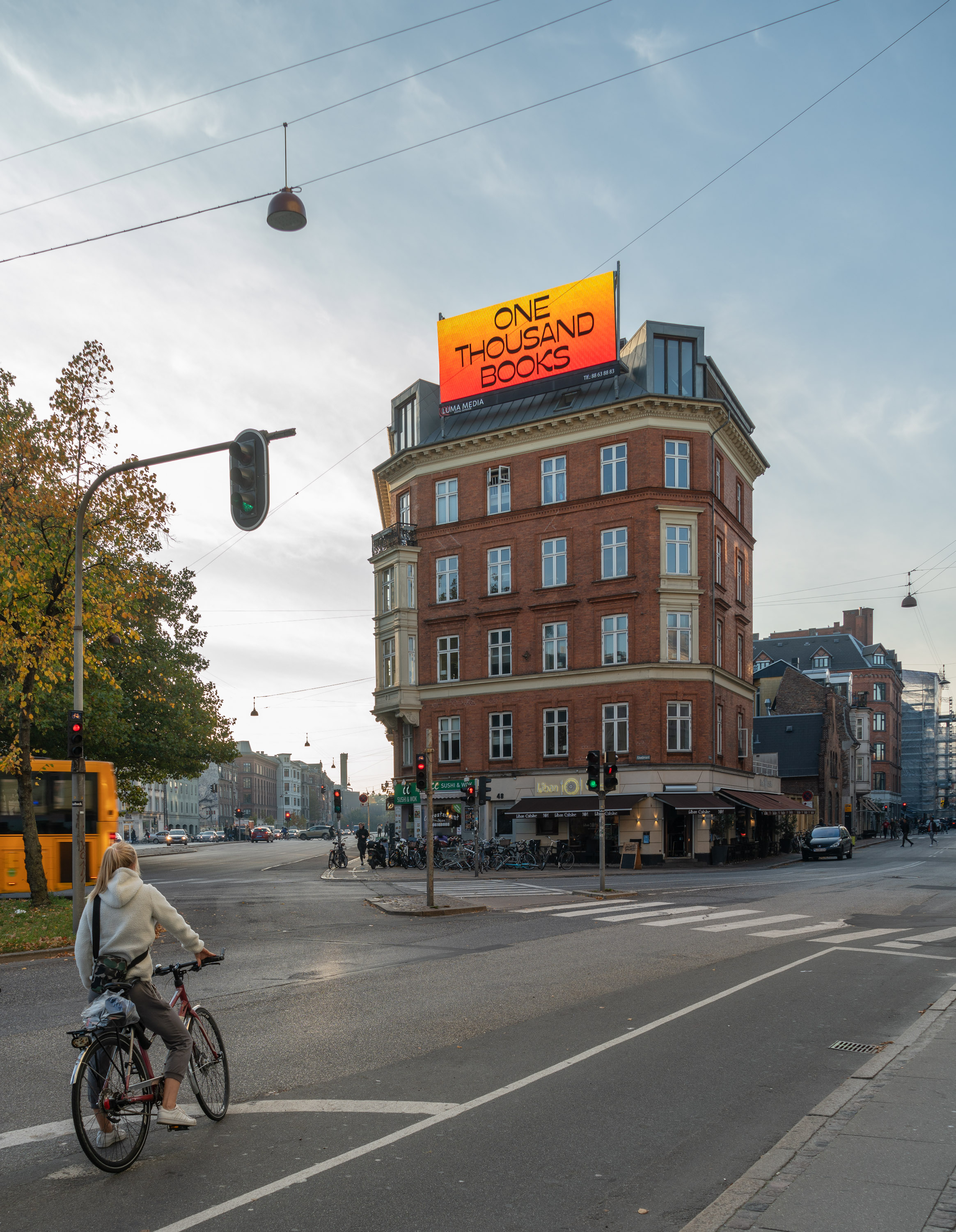 2018
One Thousand Books 2018
October 12
Annual Reportt
▶︎  VIEW 2018
This year's iteration of One Thousand Books celebrates the release of the publication Danske kunstnerbøger efter finanskrisen, sorteret efter titel-længde [Danish Artist's Books After The Financial Crisis, Sorted By Length of Title], published by Lodret Vandret. The publication is an extensive collection of information about the Danish self-publishing scene from the period of 2011–2018, which, we hope, can be used as a reference and resource list by artists and researchers alike.
For the evening Annual Reportt will transform into a functional newsstand/bar in which we will celebrate the release of the publication and the self-publishing scene in general, it's actors, their friends and readers.
2016
One Thousand Books 2016
April 21 – 24 and through May 15
Kunsthal Charlottenborg, Overgaden & Minus 1
▶︎  VIEW 2016
OTB 16 was a 4-day festival and 3-week exhibition of/about artists' books. The festival ran on April 21-24 with the exhibition continueing in the three following weeks. The main venue this year was Kunsthal Charlottenborg.
One Thousand Books 2016 featured a free and open to the public one-day seminar, a group exhibition, curated by the 13 participating publishers, a book fair on the opening weekend and various networking events.
The theme of the festival was art(ists') books and exhibition-making. The relationship between books and exhibitions is often either that of the catalogue or books statically displayed out of reach and behind glass. There must be a more engaging, democratic and, ultimately, more deserving manner to exhibit a book-work. What if we get rid of the glass vitrines and expand the book as an installation in an art space setting? This was the question around which One Thousand Books 2016 revolved.
2014
One Thousand Books 2014
April 10 – 13
REMA1000 & New Shelter Plan
▶︎  VIEW 2014
28 independent publishers from across Northern Europe met up in a supermarket in Copenhagen to sell books, engage with their audience face to face and to share ideas and strategies. The isles of an open and operating supermarket acted as a visual and conceptual backdrop as the art books were sold alongside everyday groceries, to art book lovers and unexpecting shoppers alike.
The event aimed to elevate the level, number and quality of art books coming out of our region by hosting an event where players in the field could meet, connect and share ideas and perspectives on current issues in the frame of art publishing.

The official catalogue from 2014: OTB14
One Thousand Books 2013
May 24 – 26
REMA1000
▶︎  VIEW 2013
The first edition of the One Thousand Books bookfair took place May 24 - 26, 2013 inside the supermarket Rema 1000 on the Carlsberg brewery grounds in Copenhagen. OTB 13 was an experiment into and challenge of the art book fair format, as we knew it. The festival enjoyed a great turn-out of about 800 engaged guests and good press coverage. In the weeks leading up to the event, all receipts at Rema 1000 printed with poems by Tomas Lagermand Lundme.
Video
Video from the exhibition Manifolds, which was part of One Thousand Books 2016
About
One Thousand Books is a project by Lodret Vandret, a collaborative platform for independent publishing and exhibition-making based in Copenhagen and Berlin. Lodret Vandret is Flemming Ove Bech and Johan Rosenmunthe.
Contact
instagram
email
cell
shipping
otb Ø lodretvandret.com
+45 2262 7560
Lodret Vandret
Lindenovsgade 9, 5.th
2100 Copenhagen, Denmark