One Thousand Books 2013
Independent Art Book Fair with a Nordic Focus
Fri-Sun May 24 - 26, 2013 at Carlsberg Copenhagen
The first edition of the One Thousand Books bookfair took place May 24 - 26, 2013 inside the supermarket Rema 1000 at the Carlsberg grounds in Copenhagen. We had a great turn-out of about 800 really interested guests and some good press coverage. In the weeks up to the event, all receipts at Rema 1000 had poems by Tomas Lagermand Lundme on them.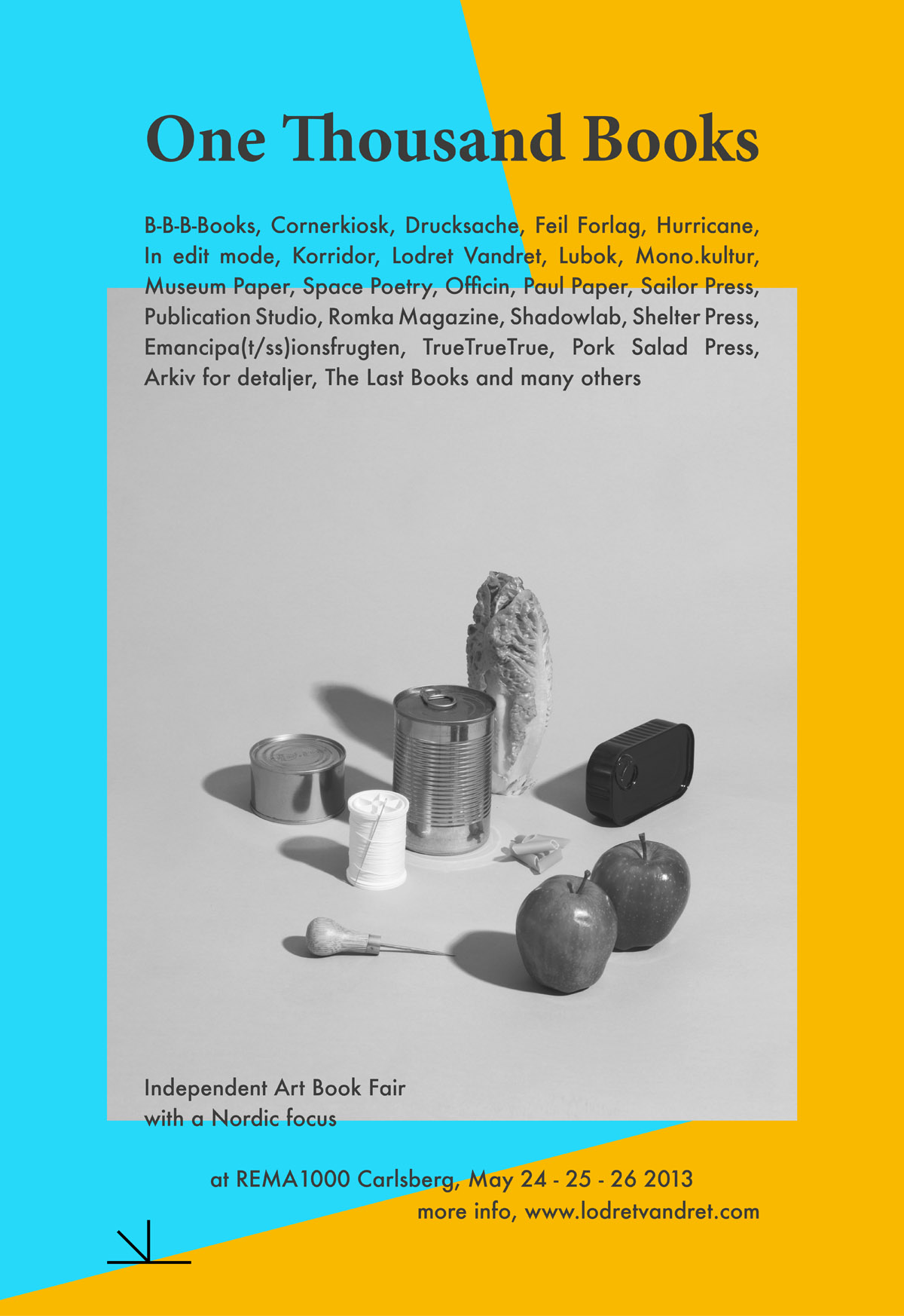 Art books,
milk & mayonnaise
More than 25 independent and micro publishers from all of Northern Europe meet in a supermarket in Copenhagen to sell books, meet their audience IRL and to share ideas and strategies with each other.
The isles of the supermarket act as a visual and conceptual backdrop as the art books are sold alongside everyday groceries to bibliophiles and the unexpecting shopper alike.
The goal is to elevate the level, number and quality of art books coming from the Nordic countries by hosting an event where the players in the field can meet, connect and share ideas and perspectives on current issues in the frame of publishing.
Paul Paper: Current Tendencies in Contemporary Art Book Publishing
Paul Paper will talk about his own practice as a self-publishing artist and curator as well as dwell into cultural tendencies surrounding the recent influx of independent publishers and self-made artist work. Paul Paper is a photographer and curator from Vilnius, Lithuania. In addition to self-publishing his work since 2006, he founded and runs publication platform dedicated to art zines "Vokas" and curated "Lentyna" - the first self-publishing festival in Lithuania in 2012.

One Thousand Books is hosted by Lodret Vandret and Sara Glahn