One Thousand Books Art Book Festival 2014
Thu-Sun April 10 - 13, 2014 at Carlsberg Copenhagen
28 independent publishers from all of Northern Europe met up in a supermarket in Copenhagen to sell books, greet their audience face to face and to share ideas and strategies with one another. The isles of the supermarket acted as a visual and conceptual backdrop as the art books were sold alongside everyday groceries, to bibliophiles and the unexpecting shopper alike.
The aim of the event was to elevate the level, number and quality of art books coming out of our region by hosting an event where players in the field could meet, connect and share ideas and perspectives on current issues in the frame of publishing.
One Thousand Books 2014 was generously supported by Statens Kunstfond, A.P. Møllerfonden and Københavns Billedkunstudvalg and arranged in collaboration with Sara Glahn.
- The Bookmarket. The heart of the festival.
- Five Talks with all kinds of different approaches to art books.
- The Factory. A program of readings and talks.
- An Exhibition of Danish art magazine Pist Protta.
- A Travelling exhibition that will travel around the world after the festival.
- A new installment of Receipt Art
- Six cases of New Literature plus Lokumslyrik.
- A Workshop on bookdesign.
- And a new collaborative Publication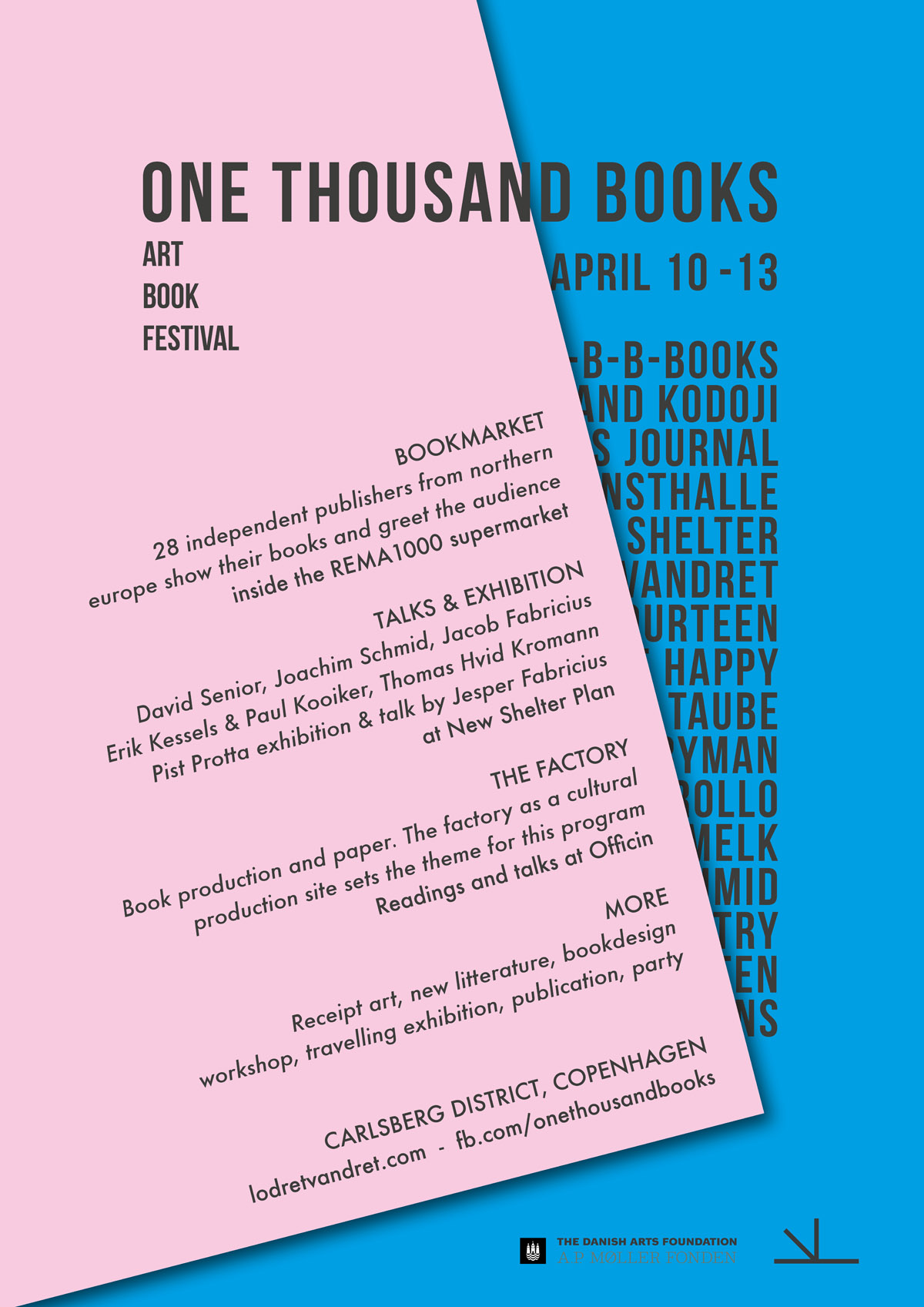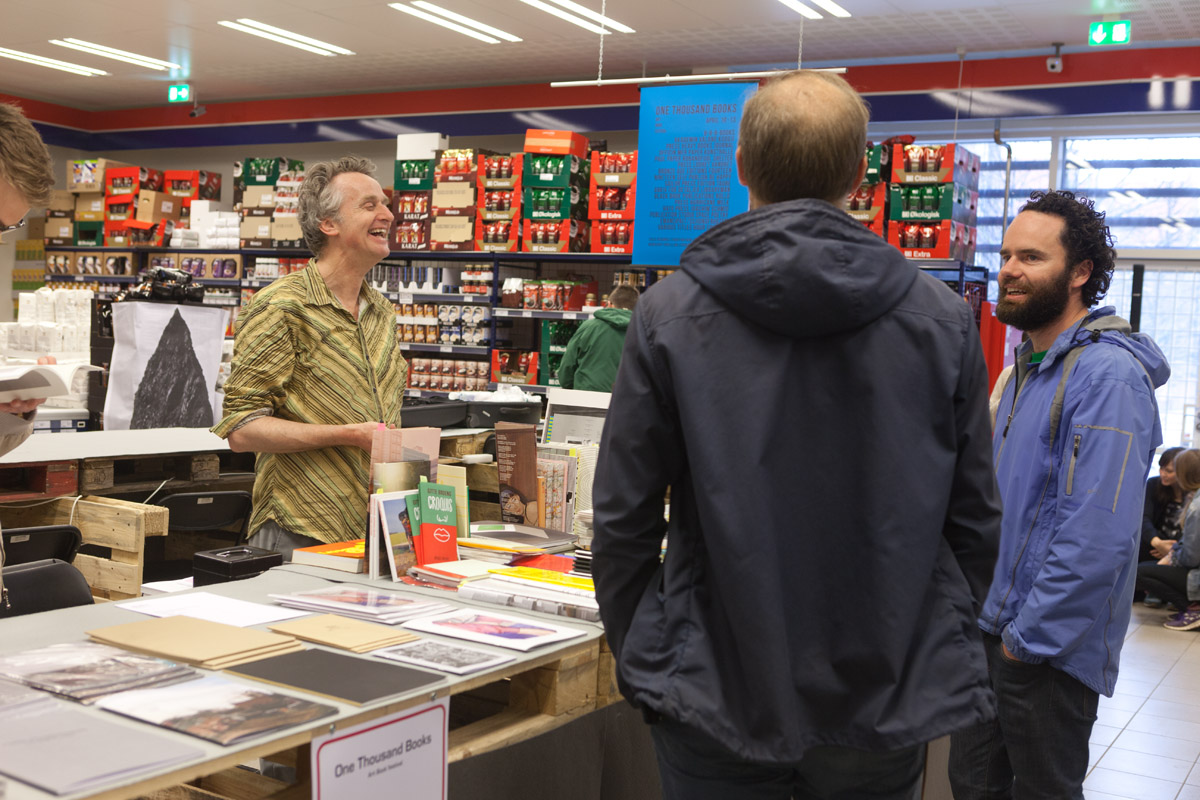 Jacob Fabricius - Leisure, Discipline and Punishment
Friday April 11 at 16:00
Inside REMA1000, Pasteursvej 61
Jacob Fabricius is the current director and curator of Kunsthal Charlottenborg and former director of Malmö Konsthall. He is also the founder and editior of Pork Salad Press and Old News.
Erik Kessels & Paul Kooiker - Terribly Awesome Photo Books
Saturday April 12 at 12:00
At New Shelter Plan, Malttorvet 2
For many years Paul Kooiker and Erik Kessels share a passion for making and collecting artists and photography books. As artists they made individually already many publications. Kooiker is known for his books Hunting and Fishing, Sunday, Crush and Heaven. Kessels works on a book series called In almost every picture and is editor of the magazine Useful Photography.
Recently they made two publications together called: Terribly Awesome Photo books and Incredibly Small Photo books. In these publications they share their specific taste for a strange kind of image based books. In this talk Kooiker and Kessels will share and discuss these different projects.
Thomas Hvid Kromann - The democratization of the artist's books
Moderator: Maria Kjær Themsen
Saturday April 12 at 12:00
At New Shelter Plan, Malttorvet 2
The concept of the democratization of the arts has been a crucial element in the boom of artists' publications and especially artists' books, which appeared in the 1960s. The disillusion of the 1970s was caused by unrealistic expectations, which were too high. As the American art critic and activist Lucy Lippard put it, one hoped that they would be for sale in airports, in supermarkets … It didn't turn out that way. But what is the situation today? Which potential lies in the possibilities of the Internet and the current revitalization of the book medium? To what extent is the artist's book a vehicle for the idea of the democratization of the arts today?
Joachim Schmid - No dog, no baby, no honeymoon but print-on-demand books
Sunday April 13 at 12:00
At New Shelter Plan, Malttorvet 2
The short story of going from darkroom, typewriter, scissors and glue to laptops, internet and digital print. Everything changed and nothing changed. A new situation leads to a new way of making books, but a book is still a book.
Joachim Schmid studied Visual Communication at Fachhochschule für Gestaltung Schwäbisch Gmünd and Berlin University of the Arts from 1976 to 1981. He is a Berlin based artist who has worked with found photography since the early 1980s. Schmid's work has been exhibited internationally and is held in the collections of many major international institutions.
David Senior - Artist-Run Spaces: Publishing and New Art Practices
Sunday April 6 at 15:00 (note: warm up talk before the festival)
At New Shelter Plan, Malttorvet 2
David Senior, Bibliographer at the Museum of Modern Art Library in New York, will discuss a history of artists' publications in the 20th and 21st centuries. There will be a few different stories about how artists and designers have used their little publications as containers for new ideas, creating lively and accessible spaces to communicate work and archive art actions. Most examples will come from the collection of books that he works with at the MoMA Library and several recent library exhibitions he has organized of artists' books and ephemera.
David Senior is the Bibliographer at The Museum of Modern Art Library, where he manages collection development, including the library's artists' books collection. He also curates exhibitions – most recently 'Please Come to the Show' (2013), 'Millennium Magazines' (2012), 'Access to Tools: Publications from the Whole Earth Catalog, 1968–74? (2011) and 'Scenes from Zagreb: Artists' Publications of the New Art Practice' (2011) – and the annual pro­gram of events for the New York and Los Angeles Art Book Fairs. His writing has appeared in Frieze, Bulletins of the Serving Library, A Prior, Art Papers and C Magazine, and since 2008 he has published an artist's book series through the New York Art Book Fair, with titles by Dexter Sinister, David Horvitz, Emily Roysdon and Eve Fowler, among others. He is a member of the advisory boards of Printed Matter, Art Metropole, Primary Information, Yale Union, and the Serving Library.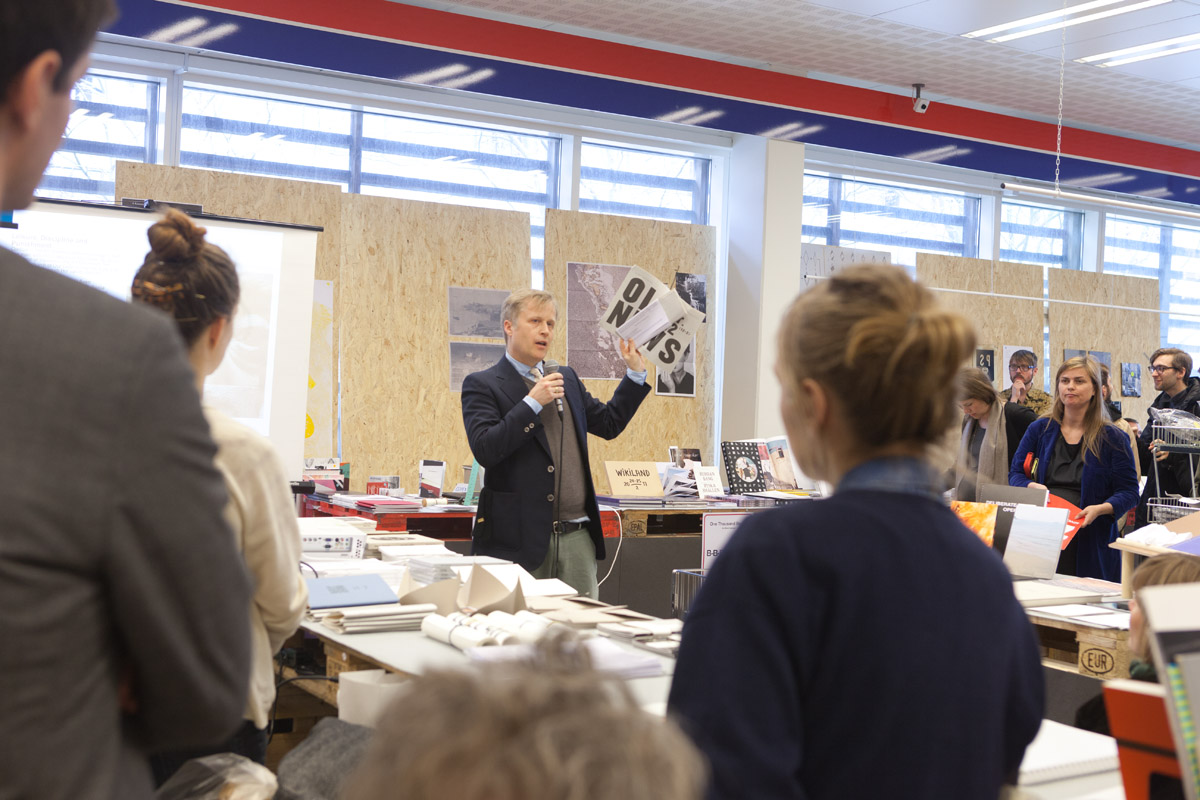 We present a special exhibition of Pist Protta, a Danish art magazine published by Space Poetry since 1981. Pist Protta is an experiment with the art magazine as a medium. Sometimes it takes form of artists books and other times it mimics more conservative magazines. Printing, binding, format etc changes from issue to issue. But the concept is always the central point. Pist Protta will be showing the entire production of 74 issues.

April 10 - 26, Wed - Sat 13:00 - 17:00
at New Shelter Plan, Malttorvet 2
Opening: Fri April 11 at 18:00 - 21:00
Drinks and at 19:00 a Talk by Jesper Fabricius of Space Poetry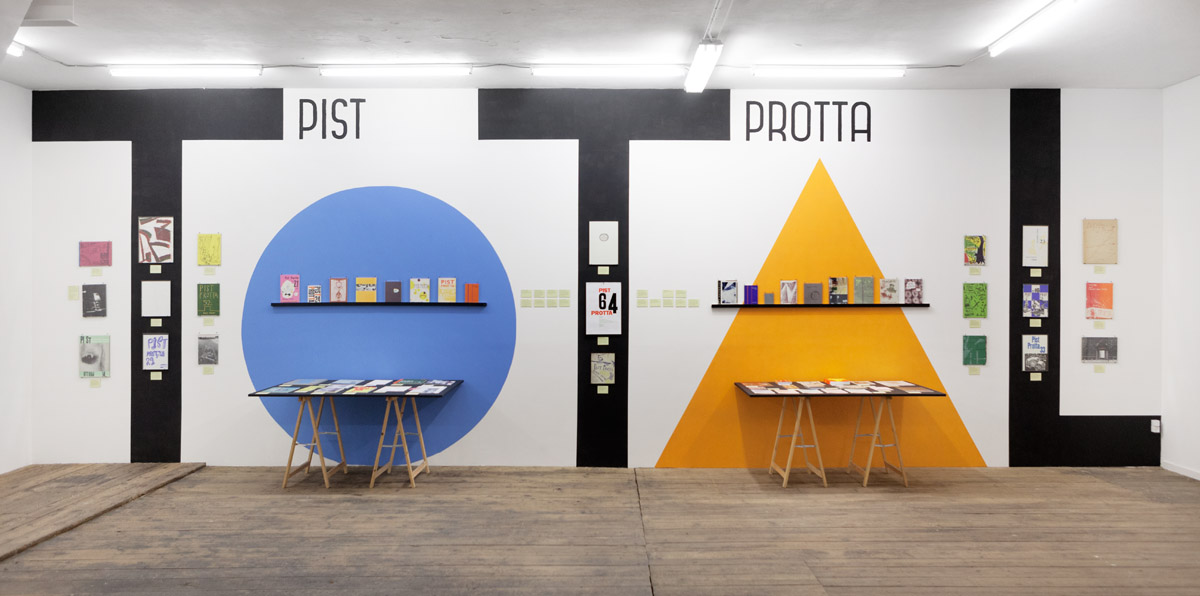 OTB14, 2014
Samplings from One Thousand Books Art Book festival. All participating imprints have contributed to this years collaborative publication. Featuring un-published new work, ideas and concepts as well as remixes of earlier publications it is a unique view into the machine room of the involved imprints. OTB14 will be released and available at the bookmarket for 100DKK.
Contributers:
Akademin Valand (SE), Arkiv for detaljer (DK), B-B-B-Books (SE), Black Book Publications (SE), Bronze Age Editions (UK), Edition Taube (DE), Emancipa(t/ss)ionsfrugten (DK), Fourteen-Nineteen (UK), Hato Press (UK), HEAVY Books (NO), Hour Editions (DK), Hurricane (DK), Joachim Schmid (DE), Journal / Gösta Flemming (SE), Kodoji (CH), Libraryman (SE), Lodret Vandret (DK), MELK (NO), Officin (DK), Paul Paper (LT), Publication Studio (SE), Robandfugl (DK), Rollo press (CH), Sailor Press (SE), Self Publish, Be Happy (UK), Shelter Press (BE), Space Poetry (DK)
Colour offset printing
Perfect bound, sewn with die cut insert
Edition of 350
A4, 160 pages
Edit and design by Lodret Vandret
ISBN 978-87-92988-08-9
Published by Vandret Publications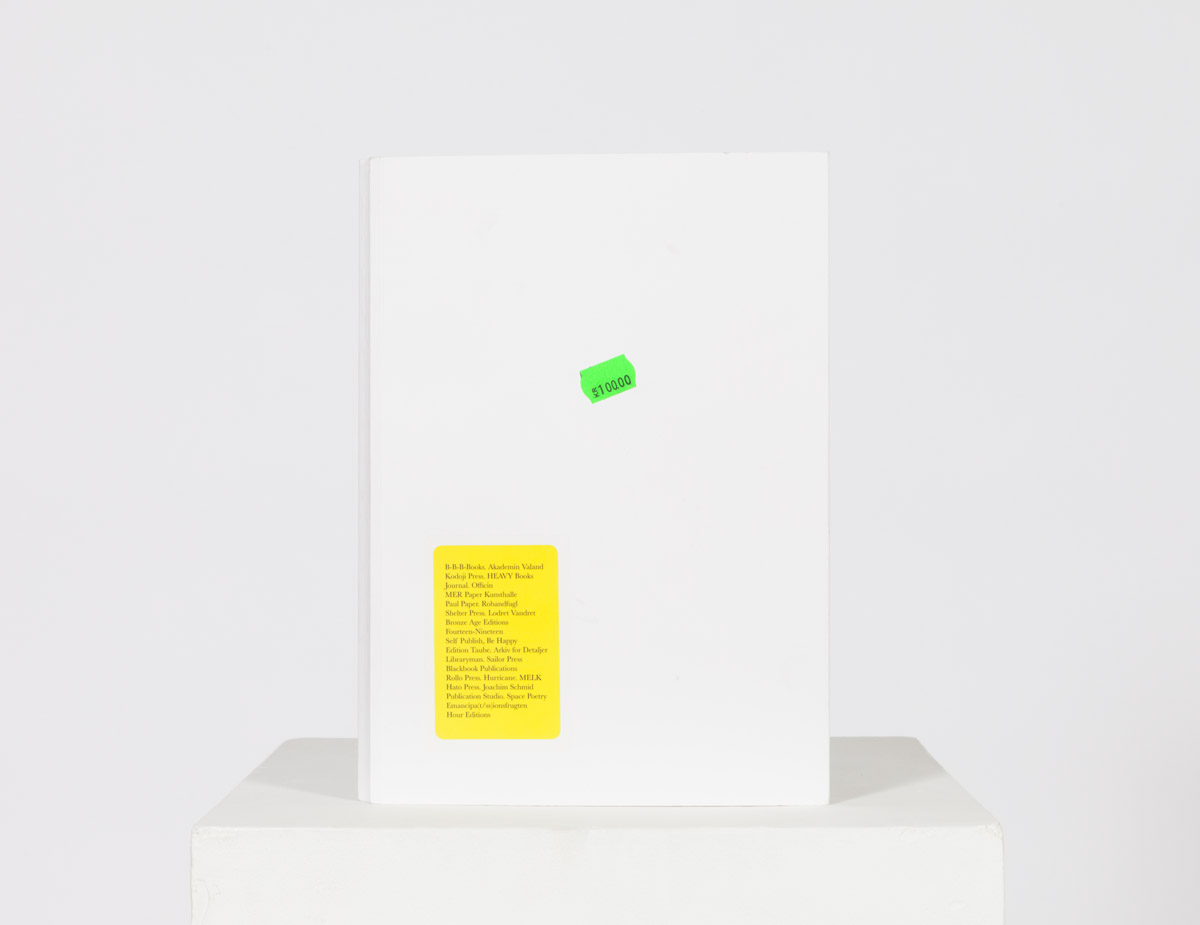 The receipts of REMA1000 Carlsberg will feature a new artwork by SUPERFLEX from March 27 and through the festival.
The piece is made especially for One Thousand Books but connects closely to the artistic practice of SUPERFLEX. The piece will be printed on all receipts of REMA1000 Carlsberg during the mentioned period and will not be available anywhere else afterwards.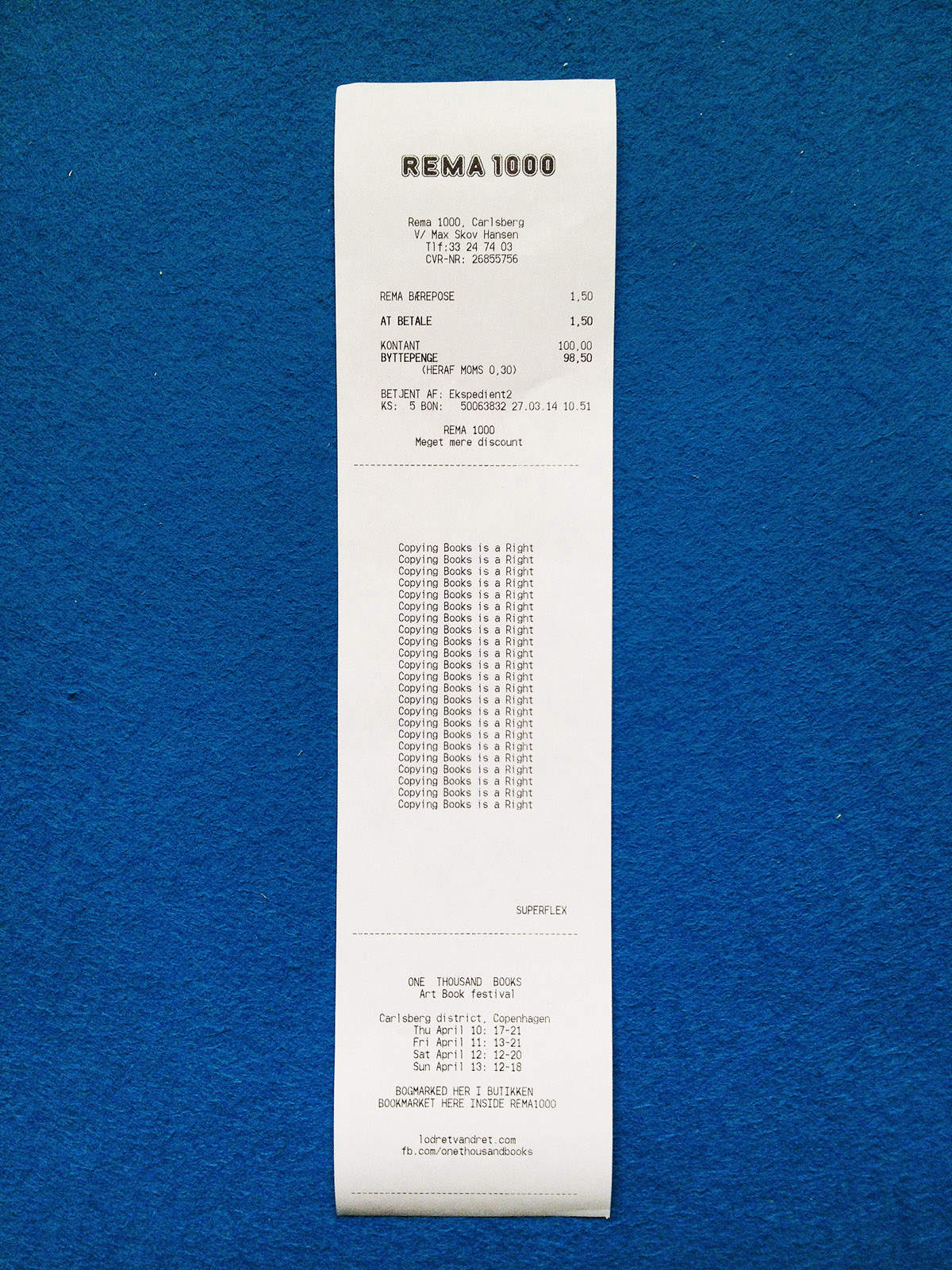 In 2012 the paper factory Petterson Paper, located in Moss, Norway, closed down. This served as the starting point of a publication series focusing on different aspects regarding the factory as institution. Eight books have been produced so far.
Readings and talks with contributors to the publications thematizes subjects such as paper, the structure of book production, site specific and local publishing, and the book as an industrialized object.
- Author and artist Amalie Smith (DK) reads from and talks about the background of her book Fabrikken Faller
- Author Eva Tind (DK) reads from her book Object fabriqué
- Graphic design studio Eller med a (NO) talks about their work with the publication series, the book as a machine produced object, paper and paper sheets
- Author Ida Börjel (SE) reads from her book Sabotagemanualerna
- Publishers Publication Studio Malmö (SE) talks about their practice, including their recent re-working of Ida Börjel's Sabotagemanualerna
The series is published by the Norwegian publisher H//O//F
Event organized by Eller med a
One Thousand Books has invited six of the most interesting contemporary Danish writers to write one page titled 'Tusind bøger' - Danish for 'One Thousand Books'. The results will be six different neatly, printed and free leaflets in edition of 166.67 which can be found in a handful of the best bookstores around Copenhagen in the weeks leading up to the festival. You can also enjoy all six texts exhibited in our all time favorite book shop, Møllegade Boghandel, from March 25 through the festival.
The six writers are:
Signe Gjessing (b. 1992), is a Danish poet. She just debuted with Ud i det u-løse, 2014.
@ Motto, Charlottenborg
Noa Kjærsgaard (b. 1989) is a Danish writer. He has written travel notes, GIF collections, and latest the collection of poems Jeg bliver hurtigt træt af at sidde her I hjørnet og føle ting forsvinde in 2013.
@ Politikens boghal, Rådhuspladsen
Josefine Klougart (b. 1985) is a Danish writer and editor. She made her literary debut with the novel Stigninger og fald and has latest written the novel Om mørke, 2013.
@ Thiemers magasin
Bue P. Peitersen (b.1976) is a Danish poet. He debuted with Jeg er så lyserød men jeg er også gud in 2011 and has latest written Juice, 2013.
@ Møllegade Boghandel
Knud Romer (b. 1960) is a Danish writer and debater. His first and latest novel is Den som blinker er bange for døden, 2006.
@ Cinnober, Landemærket
Harald Voetmann (b.1978) is a Danish writer and translator. He debuted with Kapricer in 2000 and has latest written Alt under månen, 2014.
@ BOGHANDLEREN, Godthåbsvej
+ Lokumslyrik - bathroom poems
Artist and writer Tomas Lagermand Lundme will be creating new bathroom poems for the bathrooms at New Shelter Plan during the festival. - There is nowhere to hide from the festival spirit...
How to make a book using InDesign. Learn to layout a book from start to finish. Teacher: Torsten Høgh Rasmussen, freelance art director, former art director at Ud&Se and winner of several international design awards. Bring your laptop with InDesign and be ready to design your own book. There will be time to troubleshoot and finish the layout and maybe make an appointment for printing it afterwards. 18:00 is not a fixed finishing point, we'll see what happens...
Travelling exhibition
After the festival in 2014 a curated selection of books from the bookmarket was packed in a specially designed wooden crate that will function as a travelling book exhibition and sales platform. The exhibition will travel all over the world and visit museums, art centers and bookshops. VIEW DETAILS